Good doctor and bad doctor: A qualitative study of first year medical students' views on professionalism
Keywords:
Ethics, Good doctor, Professionalism, Qualitative research, Reflective practice
Abstract
Introduction: Professionalism is emphasized in medical school curricula; however, there is lack of consensus on what constitutes professionalism. This study aimed at exploring incoming medical students' views on professionalism through student constructs of the 'good' and the 'bad' doctor. Methods: After Institutional Ethics Committee approval and informed consent, all (n=150) incoming first-year medical students were asked their reasons for pursuing medicine and their perceptions of the attributes of a 'good' and a 'bad' doctor. Following the anonymous survey, we used nominal group discussions to achieve consensus about the desirable and undesirable attributes that emerged from student responses. After an iterative theming process, a list of themes were derived from the written reflections of students. Results: Competence, communication, and professionalism were some of the perceived attributes of a good doctor, while being money-minded, having inadequate knowledge or competence, and rudeness were some of the reported attributes of a bad doctor. We identified six themes for the question 'Why pursue medicine?': affective / humanitarian response; thoughts about further pursuits; fulfillment; traits of the profession; ability to contribute to society; and personal experiences. Conclusion: Our results suggest that first year medical students have a fair idea of the behavior expected from a good doctor. Formal reflection on these expectations may hone the concept of professionalism for new entrants into the profession. The teaching of professionalism could incorporate such activities to allow students and educators to articulate and explore tensions between what is taught and what is experienced as they progress through the profession.
Downloads
Download data is not yet available.
References
Cruess R, Cruess S. Teaching professionalism: general principles. Med Teach. 2006;28:205-8.
Wear D, Castellani B. The development of professionalism: curriculum matters. Acad Med. 2000;75(6):602â€61.
Irvine D. Patients, professionalism, and revalidation. BMJ. 2005;330(7502):1265â€8.
Goldie J. Integrating professionalism teaching into undergraduate medical education in the UK setting. Med Teach. 2008;30(5):513â€27.
Hilton SR, Slotnick HB. Proto-professionalism: how professionalization occurs across the continuum of medical education. Med Educ 2005;39(1):58-65.
Monrouxe LV. Identity, identification and medical education: why should we care? Med Educ. 2010;44:40-9.
Sox HC. The ethical foundations of professionalism: A sociologic history. Chest 2007; 131:1532-40.
Cruess RL, Cruess SR, Boudreau JD, Snell L, Steinert Y. Reframing medical education to support professional identity formation. Acad Med. 2014;89:1446-51.
Wynia MK, Papadakis MA, Sullivan WM, Hafferty FW. More than a list of values and desired behaviors: a foundational understanding of medical professionalism. Acad Med. 2014;89:712–4.
Novack DH, Epstein RM, Paulsen RH. Toward creating physician-healers: Fostering medical students' self-awareness, personal growth, and wellbeing. Acad Med. 1999;74:516-20.
Brady DW, Corbie-Smith G, Branch WT. "What's important to you?†The use of narratives to promote self-reflection and to understand the experiences of medical residents. Ann Intern Med. 2002;137:220-3.
Bernard AW, Malone M, Kman NE, Caterino JM, Khandelwal S. Medical student professionalism narratives: a thematic analysis and interdisciplinary comparative investigation. BMC Emerg Med. 2011:11:11.
Bebeau MJ, Faber-Langendoen K. Remediating lapses in professionalism. In: Kalet A, Chou C, editors. Remediation in medical education. New York: Springer; 2013:103–127.
Gillies RA, Warren PR, Messias E, Salazar WH, Wagner PJ, Huff TA. Why a medical career and what makes a good doctor? Beliefs of incoming United States medical students. Educ Health (Abingdon). 2009;22:331.
Kitzinger J. Focus groups. In Qualitative research in health care. Edited by Pope C, Mays N. Carlton, Victoria: Blackwell Publishing Ltd; 2006:21–31.
Green J, Willis K, Hughes E, Small R, Welch N, Gibbs L, Daly J. Generating best evidence from qualitative research: the role of data analysis. Aust N Z J Public Health. 2007:31(6):545–50.
Strauss A, Corbin J. Basics of qualitative research techniques and procedures for developing grounded theory, 2nd ed. Thousand Oaks, CA: Sage Publications; 1998.
Grimm LG, Yarnold PR. Reading and Understanding Multivariate Statistics. Washington DC: American Psychological Association; 1995.
Novak JD. Concept mapping: a useful tool for science education. J Res Sci Teach. 1990;27(10):937-49.
Dall'Alba G. Medical practice as characterised by beginning medical students. Adv Health Sci Educ Theory Pract. 1998;3(2):101-18.
Jarvis-Selinger S, Pratt DD, Regehr G. Competency is not enough: integrating identity formation into the medical education discourse. Acad Med. 2012;87:1185-90.
McCally M, Haines A, Fein O, Addington W, Lawrence RS, Cassel CK. Poverty and ill health: Physicians can, and should make a difference. Ann Intern Med. 1998;129:726-33.
Cruess S. Professionalism and medicine's social contact. Clin Orthop. 2006;449:170-6.
West CP, Shanafelt TD. The influence of personal and environmental factors on professionalism in medical education. BMC Med Educ. 2007;7:29.
Brainard AH, Brislen HC. Learning professionalism: a view from the trenches. Acad Med. 2007;82(11):1010-4.
Monrouxe LV, Rees CE, Hu W. Differences in medical students' explicit discourses of professionalism: acting, representing, becoming. Med Educ. 2011;45:585-602.
Maudsley G, Williams EMI, Taylor DCM. Junior medical students' notions of a 'good doctor' and related expectations: a mixed methods study. Med Educ. 2007;41:476-86.
Hafferty F. Toward the operationalization of professionalism: A commentary. Am J Bioethics. 2004;4(2):28–31.
Blue AV, Crandall S, Nowacek G, Luecht R, Chauvin S, Swick H. Assessment of matriculating medical students' knowledge and attitudes towards professionalism. Med Teach. 2009;31(10):928-32.
Hafferty FW, Franks R. The hidden curriculum, ethics teaching, and the structure of medical education. Acad Med, 1994;69(11):861-71
Mezirow J. Transformative learning as discourse. J Transform Educ. 2003;1:58-63.
Medical Council of India, Competency based Undergraduate curriculum for the Indian Medical Graduate, Vol 1. Delhi: MCI; 2018.
Martin S: What is a good doctor? Patient perspective. Am J Obstet Gynecol, 1998;178:752-4.
Pfeiffer A, Noden BH, Walker ZA, Aarts R, Ferro J. General population and medical student perceptions of good and bad doctors in Mozambique. Educ Health (Abingdon). 2011;24(1):387. Epub 2011 Apr 2.
Ho MJ, Yu KH, Hirsh D, Huang TS, Yang PC. Does one size fit all? Building a framework for medical professionalism. Acad Med. 2011;86:1407-14.
Adkoli BV, Al-Umran KU, Al-Sheikh MH, Deepak KK, Al-Rubaish AM. Medical students' perception of professionalism: A qualitative study from Saudi Arabia. Med Teach. 2011;33(10):840-5.
Modi JN, Anshu, Gupta P, Singh T. Teaching and assessing professionalism in the Indian context. Indian Pediatr. 2014;51:881-8.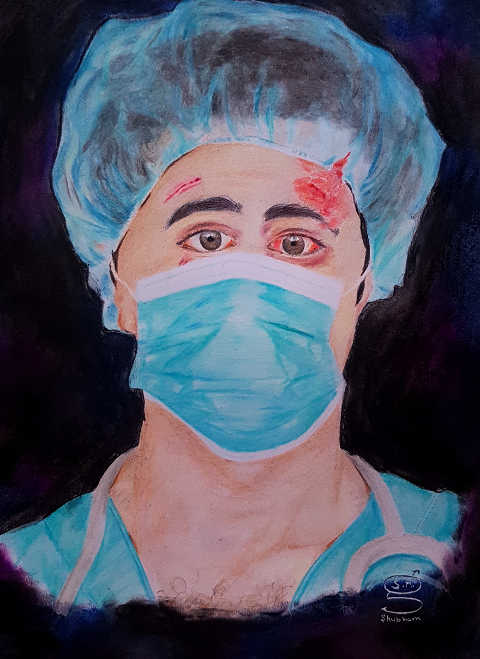 Downloads
How to Cite
Kumar, D., Murugan, M., Prasad, B., & Devi, R. (2018). Good doctor and bad doctor: A qualitative study of first year medical students' views on professionalism. Research and Humanities in Medical Education, 5, 58–68. Retrieved from https://www.rhime.in/ojs/index.php/rhime/article/view/176
License
Copyright (c) 2018 Dinesh Kumar, Magi Murugan, Bhavani Prasad, Rema Devi
This work is licensed under a Creative Commons Attribution-NonCommercial 4.0 International License.
Articles published in the journal RHiME are covered by the Creative Commons License [Attribution-NonCommercial 4.0 International (CC BY-NC 4.0)]
Authors retain copyright and grant the journal right of first publication with the work simultaneously licensed under a Creative Commons Attribution License that allows others to share the work with an acknowledgement of the work's authorship and initial publication in this journal.
Authors are able to enter into separate, additional contractual arrangements for the non-exclusive distribution of the journal's published version of the work (e.g., post it to an institutional repository or publish it in a book), with an acknowledgment of its initial publication in this journal.
Authors are permitted and encouraged to post their work online (e.g., in institutional repositories or on their website) after publication in the Journal, as it can lead to productive exchanges, as well as greater citation of published work.