Deciphering conversational complexity around a diabetic patient in a web based forum
Ankur Joshi

All India Institute of Medical Sciences (AIIMS), Rishikesh, Uttarakhand, India

Saket Kale

Ruxmaniben Deepchand. Gardi Medical College, Ujjain, Madhya Pradesh, India

Sharad Tiwari

Gandhi Medical College,Bhopal

Rakesh Biswas

Laxmi Narayan Medical College, Bhopal, Madhya Pradesh, India.
Keywords:
Asynchronous learning, Clinical decision making, Construct, Communication, Conversational forum, Diabetes, Knowledge
Abstract
Web based conversational forums have gained momentum as an aid to clinical decision making. This paper, written in an empirical explanatory manner, attempts to understand the flow of information and the process of sense-making in one such forum (Tabula-rasa) through considering a prototype discussion among participants.
Downloads
Download data is not yet available.
References
Pandey PJ, Joshi A, Kale S, Meena JS, Kale N. Illness narrative: creative drama within. International Journal of User-Driven Healthcare. 2013;3(3):59-67.
Cassel EJ. The nature of suffering and the goals of medicine. N Engl J Med. 1982;306(11):639-45.
Joshi A, Nahar N, Phadnnis S, Biswas R. Patient-Provider reciprocity as complex adaptive system. Review of Global Medicine and Healthcare Research. 2013;4(1):208-21.
Elwyn G, Frosch D, Thomson R, William NJ, Lloyd A, Kinnersley P, et al. Shared decision making: a model for clinical practice. J Gen Intern Med. 2012;27(10): 1361-7.
Tennant B, Stellefson M, Dodd V, Chaney B, Chaney D, Paige S, et al. eHealth literacy and Web 2.0 health information seeking behaviors among baby boomers and older adults. J Med Internet Res. 2015;17(3):e70.
Bernstein RK. Dr Bernstein's Diabetes Solution: The Complete Guide to Achieving Normal Blood Sugars. 3rd ed. Little, Brown and Company: NY. 2007.
Vracko R, Benditt EP. Manifestations of diabetes mellitus - their possible relationships to an underlying cell defect: A review. Am J Pathol. 1974;75(1): 204–24.
American Association of Diabetic Educators. Patient Resources: AADE7 Self-Care Behaviors™ [Internet]. 2016 [cited 2017 Jan 17]. Available from: http://www.diabeteseducator.org/Patient_Resources/ aade7-self-care-behaviors/healthycoping.html
Hörnquist JO, Wikby A, Stenström U, Andersson PO, Akerlind I. Type II diabetes and quality of life: a review of the literature. Pharmacoeconomics. 1995;8Suppl 1:12-6.
U.S. Department of Health & Human Services [Internet]. Washington: HIPPA for Professionals [cited 2017 Jan 17]. Available from: http://www.hhs.gov/hipaa/for-professionals/index.html
Bera K, Seth B, Biswas R. Conversational learning among medical students: harnessing the power of web 2.0 through user driven healthcare. Annals of Neurosciences. 2013;20(2):37–8.
Purkayastha S, Price A, Biswas R, JaiGanesh AU, Otero P. From dyadic ties to information infrastructures: care-coordination between patients, providers, students and researchers. Contribution of the Health Informatics Education Working Group. Yearb Med Inform. 2015;10(1):68-74.
Biswas T, Bera K, Biswas R. Creating secondary learning resources from the BMJ Case Reports through social-media based discussion groups. 2011 Oct 28 [cited 2017 Jan 17]. In: BMJ Blogs. BMJ Case Reports Blog [Internet]. BMJ Publishing Group Ltd, c2016. [About 1 screen]. Available from:
http://blogs.bmj.com/case-reports/2011/10/28/creating-secondary-learning-resources/
Biswas T, Sen P, Dasgupta S, Niyogi SG,Ghosh GC, Bera K, et al. Creating secondary learning resources from BMJ case reports through medical student conversational learning in a web based forum: a young man with fever and lymph node enlargement. International Journal of User-Driven Healthcare. 2011;1(3):7–19.
Atherton JS. Learning and Teaching; Conversational learning theory; Pask and Laurillard [Internet]. UK:2013 [cited 2017 Jan 17]. Available from: http://doceo.co.uk/l&t/learning/pask.htm
Scott B. Conversation theory: a dialogic, constructivist approach to educational technology. Cybernetics and Human Knowing. 2001;8(4):25-46.
Atherton J S. Learning and teaching; Assimilation and accommodation [Internet]. UK:2013.[cited 2017 Jan 17]. Available from: http://www.learningandteaching.info/learning/assimacc.htm.
Leitch R, Day C. Action research and reflective practice: towards a holistic view. Educational Action Research. 2000;8(1):179-93.
Jenicek M. A Primer on Clinical Experiences in Medicine: Reasoning, Decision Making and Communication in Health Sciences. Boca Raton: CRC Press, Taylor and Francis group; 2013.
Larochellle M, Bednarz N, Garrison J (Eds). Constructivism and education. NY: Cambridge University Press. 1998.
Jacobs B, Ir P, Bigdeli M, Annear PL, Damme WV. Addressing access barriers to health services: an analytical framework for selecting appropriate interventions in low-income Asian countries. Health Policy Plan. 2012;27(4):288-300.
Mackenbach JP. Politics is nothing but medicine at a larger scale: reflections on public health's biggest idea. J Epidemiol Community Health. 2009;63(3):181-4.
Pawlik K, Rosenzweig MR (Eds). The International Handbook of Psychology. 1st ed. Sage: New Delhi. 2000.
Hodgkin P. Medicine, postmodernism, and the end of certainty. BMJ. 1996;313:1568-69.
Radden G, Köpcke KM, Berg T, Siemund P (Eds). Aspects of meaning construction. John Benjamins Publishing Company: Philadelphia. 2007.
Sweeney K, Griffiths F. Complexity and Health care - An introduction. Radcliffe Medical Press: UK. 2002.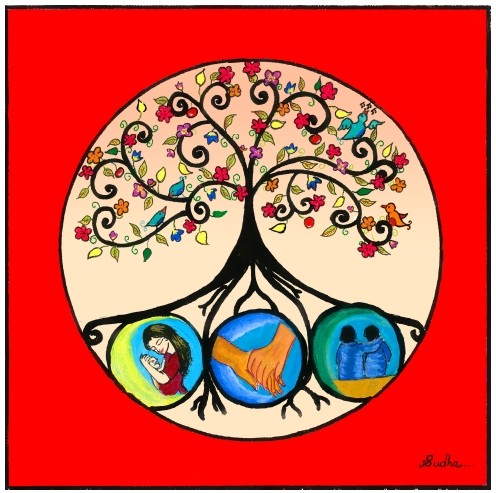 How to Cite
Joshi, A., Kale, S., Tiwari, S., & Biswas, R. (2017). Deciphering conversational complexity around a diabetic patient in a web based forum. Research & Humanities in Medical Education, 4, 5-11. Retrieved from https://www.rhime.in/ojs/index.php/rhime/article/view/76
Copyright (c) 2017 Ankur Joshi, Saket Kale, Sharad Tiwari, Rakesh Biswas
This work is licensed under a Creative Commons Attribution-NonCommercial 4.0 International License.
This work is licensed under a
Creative Commons Attribution-NonCommercial 4.0 International License
. Authors who publish with this journal agree to the following terms: Authors retain copyright and grant the journal right of first publication with the work simultaneously licensed under a Creative Commons Attribution License that allows others to share the work with an acknowledgement of the work's authorship and initial publication in this journal. Authors are able to enter into separate, additional contractual arrangements for the non-exclusive distribution of the journal's published version of the work (e.g., post it to an institutional repository or publish it in a book), with an acknowledgement of its initial publication in this journal. Authors are permitted and encouraged to post their work online (e.g., in institutional repositories or on their website) after publication in the Journal, as it can lead to productive exchanges, as well as greater citation of published work