Ambiguity and uncertainty in 'breaking bad news' simulation
Lessons from standardized patients' different personality types
Keywords:
Ambiguity, Breaking bad news, Medical education, Performative technique, Standardized patients, Time perception, Uncertainty, Unfinalizability
Abstract
Introduction: Ambiguity and uncertainty are intrinsic aspects of contemporary medicine, and there is a need for methods to train medical students to tolerate them better. This article distinguishes the ways that different standardized patient (SP) personality types provide opportunities for medical students to practice tolerating ambiguity and uncertainty associated with breaking bad news (BBN). Methods: This ethnographic study draws data from nine student encounters with two female SPs who specialize in the BBN simulation. It utilizes the literary concepts of "unfinalizability" and parallel "time zones" to reflect upon manifestations of uncertainty and ambiguity in SP performances. Results: The SPs challenged the linear progression of the BBN encounter by including shifts between different time zones in the patient's mental-experiential continuum. The study identified seven main forms of resistance in the SP performance, all geared toward challenging the linear and complete conduct of the student performance: resisting being considered a patient, resisting decision-making, resisting authority, resisting here-and-now, resisting being seated, resisting closure, and resisting death/life. Discussion: The SPs' distinct personality types have the potential to improve students' ability to respond to individuals with different temporal orientations, and support them to tolerate encounters with various kinds of open endings.
Downloads
Download data is not yet available.
References
Luther VP, Crandall SJ. Commentary: ambiguity and uncertainty: neglected elements of medical education curricula? Acad Med. 2011;86(7):799-800. Available from https://www.doi.org/10.1097/acm.0b013e31821da915.
Bleakley A, Farrow R, Gould D, Marshall R. Learning how to see: doctors making judgements in the visual domain. J Workplace Learn. 2003;15(7/8):301-6.
Holmes SM, Ponte M. En-case-ing the patient: disciplining uncertainty in medical student patient presentations. Cult Med Psychiat. 2011;35:163-82.
Ellsberg, D. Risk, ambiguity, and the Savage axioms. Q J Econ. 1961;75:643–69.
Baruch JM. Creative writing as a medical instrument. J Med Humanit. 2013;34:459-69. Available from https://doi.org/10.1007/s10912-013-9243-7.
Nestel D, Fleishman C, Bearman M. Preparation: developing scenarios and training for role portrayal. In: D Nestel, M Bearman. Simulated Patient Methodology: Theory, Evidence and Practice. Chichester UK: John Wiley & Sons Ltd.; 2014. pp. 63-70. Available from https://doi.org/10.1002/9781118760673.ch9.
Morrison LJ, Barrows HS. Developing consortia for clinical practice exams: the Macy project. Teach Learn Med. 1994;6:23-7.
Bakhtin MM. Problems of Dostoevsky's Poetics. Ed. and trans. C Emerson. Minneapolis: University of Minnesota Press; 1984.
Frank AW. The Renewal of Generosity; illness medicine and how to live. Chicago: University of Chicago Press; 2004.
Winterson J. An Evening with Jeanette Winterson. In: Ideas at the House. Web content, posted Aug 11, 2014. Available from https://www.youtube.com/watch?v=XMnSEhZVRq0, November 7, 2019.
Hulbert RJ, Lens W. Time and self-identity in later life. Int J Aging Hum Dev. 1988;27:293-303.
Lin CT, Albertson GA, Schilling LM, Cyran EM, Anderson SN, Ware L, Anderson RJ. Is patients' perception of time spent with the physician a determinant of ambulatory patient satisfaction? Arch Intern Med. 2001;161(11):1437-42. Available from https://www.doi.org/10.1001/archinte.161.11.1437.
Welch N, McNaughton S, Hunter W, Hume C, Crawford D. Is the perception of time pressure a barrier to healthy eating and physical activity among women? Public Health Nutrition. 2009:12(7):888-95. Available from https://www.doi.org/10.1017/S1368980008003066
Pestinger M, Stiel S, Elsner F, Widdershoven G, Voltz R, Nauck F, Radbruch L. The desire to hasten death: Using Grounded Theory for a better understanding "When perception of time tends to be a slippery slope." Palliat Med. 2015:29(8):711-9. Available from https://www.doi.org/10.1177/0269216315577748
Charmaz K. Grounded theory: Objectivist and constructivist methods. In: Denzin NK and Lincoln Y, editors (ed 2). The Handbook of Qualitative Research. Thousand Oaks, CA: Sage Publications, Inc.; 2000. pp. 509-35.
Dias L, Chabner BA, Lynch TJ Jr, Penson RT. Breaking bad news: a patient's perspective. Oncologist. 2003;8(6):587-96.
Bleakley A, Bligh J, Browne J. Medical education for the future: Identity, power, and location. Dordrecht: Springer; 2011.
Asendorpf JB. Editorial: The puzzle of personality types. Eur J Pers. 2002;16:S1-S5. Available from https://www.doi.org/10.1002/per.446.
Bleakley A. Bad faith, medical education, and post-truth. Perspect Med Educ. 2018;7:3-4. Available from https://doi.org/10.1007/s40037-017-0394-5.
Baruch JM. Doctors as makers. Acad Med. 2017;92(1):40-4. Available from https://www.doi.org/10.1097/ACM.0000000000001312.
Barry CA, Stevenson FA, Britten N, Barber N, Bradley CP. Giving voice to the lifeworld. More humane, more effective medical care? A qualitative study of doctor–patient communication in general practice. Soc Sci Med. 2001;54(4):487-505.
Baile WF, Buckman R, Lenzi R, Glober G, Beale EA, Kudelka AP. SPIKES-A six-step protocol for delivering bad news: application to the patient with cancer. Oncologist 2000;5(4):302-11. Available from https://www.doi.org/10.1634/theoncologist.5-4-302.
Vegni E, Zannini L, Visioli S, Moja EA. Giving bad news: a GPs' narrative perspective. Support Care Cancer. 2001;9:390-6. Available from https://www.doi.org/10.1007/s005200100236.
Drake L, Duncan E, Sutherland F, Abernethy C, Henry C. Time perspective and correlates of wellbeing. Time Soc. 2008;17(1):47-61. Available from https://doi.org/10.1177/0961463X07086304.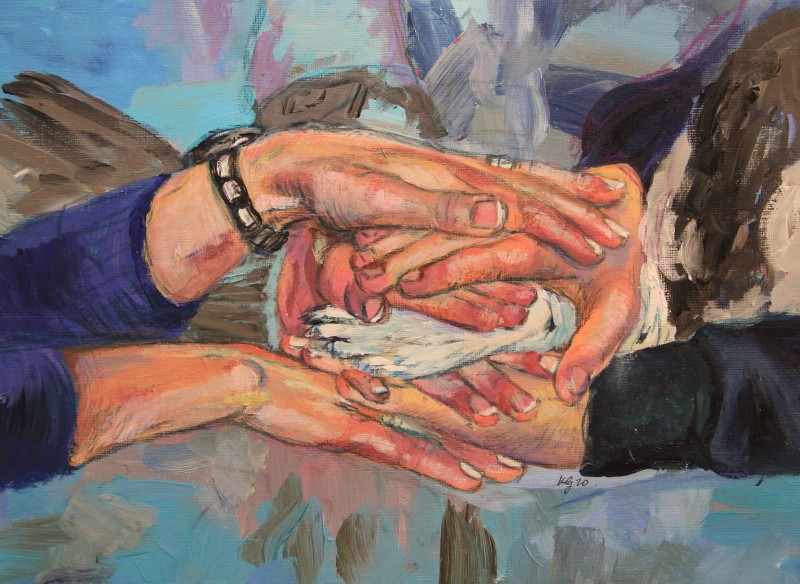 Downloads
How to Cite
Koski, K., & Ostherr, K. (2021). Ambiguity and uncertainty in 'breaking bad news' simulation: Lessons from standardized patients' different personality types . Research and Humanities in Medical Education, 8, 75–82. Retrieved from https://www.rhime.in/ojs/index.php/rhime/article/view/471
License
Copyright (c) 2021 Kaisu Koski, Prof Kirsen Ostherr
This work is licensed under a Creative Commons Attribution-NonCommercial 4.0 International License.
Articles published in the journal RHiME are covered by the Creative Commons License [Attribution-NonCommercial 4.0 International (CC BY-NC 4.0)]
Authors retain copyright and grant the journal right of first publication with the work simultaneously licensed under a Creative Commons Attribution License that allows others to share the work with an acknowledgement of the work's authorship and initial publication in this journal.
Authors are able to enter into separate, additional contractual arrangements for the non-exclusive distribution of the journal's published version of the work (e.g., post it to an institutional repository or publish it in a book), with an acknowledgment of its initial publication in this journal.
Authors are permitted and encouraged to post their work online (e.g., in institutional repositories or on their website) after publication in the Journal, as it can lead to productive exchanges, as well as greater citation of published work.