Representations of the 1918 Pandemic in poetry
Keywords:
1918 Pandemic, Health humanities, Medical humanities, Modernist literature, Poetry
Abstract
The Spanish flu does not have a powerful hold on cultural memory. As an illness, it erases the collective suffering; as a virus, it offers a degenerate body. This essay will explore representations of the 1918 pandemic in poetry by using three poems: Voigt's Kyrie, Eliot's The Wasteland and Williams's Spring and All. The impact of the flu on these three poems not only consists of its material effects, but also resides in its metaphoric potential. Influenza provides an entry into modernist discourses across disciplines - literature, science, sociology, medicine - that are concerned with reconceptualising bodies of all kinds. The poems discussed in this paper echo the narrative of survivors from both the war and the flu who felt stranded in a state of existence describable as a "living death", a state in which one was not dead, but not quite alive, either. Surrounded by so many who were dying, the living often felt only half alive. The pervasive feeling of being on the threshold of life and death, and of confrontation between life and death, captures this particular historical moment on both literal and metaphorical levels. These poems also serve as contributors to modernist conceptions of the drudgery of everyday life during a pandemic and represent a factual description of what it was like to remain alive in 1919. They capture in their very silences both acknowledged horrors and horrors that remain unspoken.
Downloads
Download data is not yet available.
References
Belling C. Overwhelming the medium: fiction and the trauma of pandemic influenza in 1918. Lit and Med. 2009;28(1):55-81.
Hagemann H. The 1918 Flu Pandemic Was Brutal, Killing More Than 50 Million People Worldwide. NPR Special Series: The Coronavirus Crisis. 2020 Apr 02 [cited 2020 Oct 05]. Available from https://www.npr.org/2020/0 4/02/826358104/the-1918-flu-pandemic-was-brutal-killing-as-many-as-100-million-people-worldwide.
Woolf V. On Being ill. Introduction by Lee H. Middle town: Paris Press;2002.
Woolf V. The Diary of Virginia Woolf: 1915-1919. Bell AO, Ed. New York: Harcourt Brace Jova novich;1977.
Woolf V. Mrs Dalloway. London: Hogarth Press;1925.
Kahn K. The 'Spanish' Influenza pandemic and its relation to World War I. World War One Centenary: Continuations and Beginnings. Oxford: University of Oxford. 2012 [cited 2020 Oct 05]. Available from http://ww1centenary.oucs.ox.ac.uk/?p=2190
Fussell P. The Great War and modern memory. Oxford: Oxford University Press;1975.
Crosby AW. American's Forgotten Pandemic: The Influenza of 1918. 2nd ed. Cambridge: Cambridge University Press;2003.
Outka E. "Wood for the Coffins Ran Out": Modernism and the shadowed afterlife of the influenza pandemic. Modernism. 2015;21(4):937- 60.
Voigt EB. Kyrie. London: Norton;1995.
Cramer S. Song and Story: An Interview with Ellen Bryant Voigt. The Atlantic Online; 1999. Available from https://www.theatlantic.com/past/docs/unbound/poetry/antholog/voigt/songstory.htm
Nixon S. Personifying Tragedy: Kyrie and Kettle Bottom. Coastline Journal. 2009 Aug 11 [cited 2020 Oct 05]. Available from https://www.academia.edu/5567061/Personifying_Tragedy_Kyrie_and_Kettle_Bottom?auto=download.
Exodus Chapter 12. The Holy Bible.
Esteves JA. Pandemic forces world to confront its greatest fear. Chicago Catholic. 2020 Jun 17 [cited 2020 Oct 05]. Available from https://www.chicagocatholic.com/vatican/-/article/2020/06/17/pandemic-forces-world-to-confront-its-greatest-fear
Wright J. Only your calamity: the beginnings of activism by and for people with AIDS. Am J Public Health. 2013;103(10):1788-98.
Ricks C, McCue J. The Poems of T.S. Eliot, Volume 1: Collected & Uncollected Poems. London:Faber & Faber;2015.
MacCabe C. T. S. Eliot. Tavistock: Northcote House;2006.
Eliot TS. The Letters of T. S. Eliot. Vol. 1, 1898–1922. Eliot V, ed. New York: Harcourt Brace Jovanovich;1988.
Eliot TS. The Waste Land. New York: Norton;2001.
Williams WC. Spring and All. New York: Robert McAlmon's Contact Publishing Co;1923.
Graham TR. The Courage of his diversity: medicine, writing and William Carlos Williams. Lit and Med. 1985;2:9-21.
Clay RM. The Medieval Hospitals of England. Cox C, ed. London: Methuen and Co;1909.
Boccaccio G. The Decameron. Musa M and Bondanella P, Trans. Dublin: Mentor Books;1982.
Bracken RC. Reading for Pandemic: Viral Modernism by Elizabeth Outka. New York: Columbia University Press;2020.
Outka E. Viral Modernism: The Influenza Pandemic and Interwar Literature. New York: Columbia University Press;2020.
Onion R. The 1918 Flu Pandemic Killed Millions. So Why Does Its Cultural Memory Feel So Faint? New York: Slate. 2020 May 03 [cited 2020 Oct 05]. Available from https://slate.com/human-interest/2020/05/1918-pandemic-cultural-memory-literature-outka.html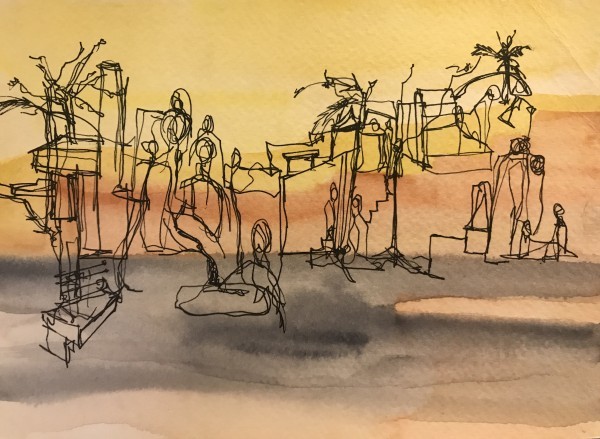 Downloads
How to Cite
Scerri, M., & Grech, V. (2020). Representations of the 1918 Pandemic in poetry. Research & Humanities in Medical Education, 7, 200-208. Retrieved from https://www.rhime.in/ojs/index.php/rhime/article/view/409
License
Copyright (c) 2020 Mariella Scerri, Dr Victor Grech
This work is licensed under a Creative Commons Attribution-NonCommercial 4.0 International License.
This work is licensed under a
Creative Commons Attribution-NonCommercial 4.0 International License
. Authors who publish with this journal agree to the following terms: Authors retain copyright and grant the journal right of first publication with the work simultaneously licensed under a Creative Commons Attribution License that allows others to share the work with an acknowledgement of the work's authorship and initial publication in this journal. Authors are able to enter into separate, additional contractual arrangements for the non-exclusive distribution of the journal's published version of the work (e.g., post it to an institutional repository or publish it in a book), with an acknowledgement of its initial publication in this journal. Authors are permitted and encouraged to post their work online (e.g., in institutional repositories or on their website) after publication in the Journal, as it can lead to productive exchanges, as well as greater citation of published work