'The Doctor' revisited during the coronavirus disease pandemic
Keywords:
COVID-19, Coronavirus, Artwork, The Doctor (painting), Health humnaities, Medical humanities, Provider-patient relationship, Painting, Tele-medicine
Abstract
'The Doctor' is a painting by Sir Luke Fildes. Created in 1891, it depicts a doctor keeping watch over a young child at the bedside in a home environment. Commissioned by Sir Henry Tate, the purpose of the painting was to portray the status of the doctor in those days. It has been used extensively by the author in health humanities courses over more than a decade; this paper shows how the painting is relevant in the teaching-learning process even today, when the world is in the grip of a pandemic and the provider-patient relationship is strained as a result of the unprecedented healthcare burden caused by the COVID-19 virus.
Downloads
Download data is not yet available.
References
Fildes L, Sir. The Doctor. Exhibited 1891; Tate Gallery, Britain. [cited 2020, May 08]. Available from: https://www.tate.org.uk/art/artworks/fildes-the-doctor-n01522
COVID-19 dashboard. Center for Systems Science and Engineering (CSSE) at Johns Hopkins University. 2020 [cited 2020, May 08]. Available from: https://coronavirus.jhu.edu/map.html
The Doctor (painting). Wikipedia, the free encyclopedia. 2020, Apr 14 [cited 2020, May 08]. Available from: https://en.wikipedia.org/wiki/The_Doctor_(painting)
Projan SJ. Why is big pharma getting out of antibacterial drug discovery? Curr Opin Microbiol. 2003;6:427-30.
Flexner C. HIV drug development: the next 25 years. Nat Rev Drug Discov. 2007;6:959-66.
Ludvson JF. Systematic review of COVID-19 in children show milder cases and a better prognosis than adults. Acta Paediatr. 2020 Mar 23. doi: 10.1111/apa.15270. Epub ahead of print.
Verghese A, Brady E, Kapur CC, Horwitz RI. The bedside evaluation: ritual and reason. Ann Intern Med. 2011;155:550-3.
Greenberg N, Docherty M, Gnanapragasam S, Wessely S. Managing mental health challenges faced by healthcare workers during covid-19 pandemic. BMJ. 2020;368:m1211 doi: 10.1136/bmj.m1211.
Verghese A. The Gordon Wilson lecture 'The doctor in our time': Fildes' famous painting and perceptions of physician attentiveness. Trans Am Clin Climatol Assoc. 2008;119:117-26.
Nagpal N. Incidents of violence against doctors in India: can these be prevented? Natl Med J India. 2017;30:97-100.
Kar SP. Addressing underlying causes of violence against doctors in India. Lancet. 2017;389:1979-80.
Macnaughton J. The humanities in medical education: context, outcomes and structures. Med Humanit. 2000;26:23-30.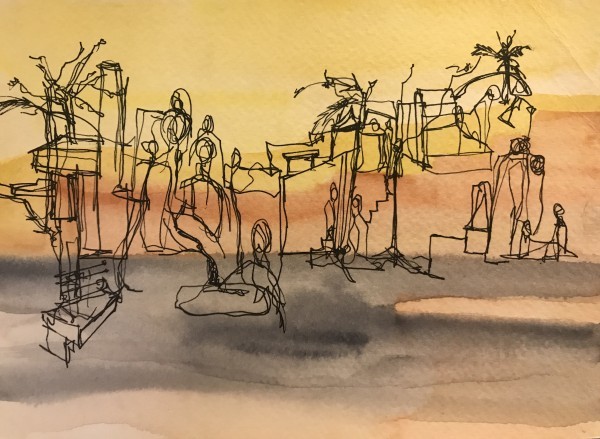 Downloads
How to Cite
Shankar, P. R. (2020). 'The Doctor' revisited during the coronavirus disease pandemic. Research & Humanities in Medical Education, 7, 89-93. Retrieved from https://www.rhime.in/ojs/index.php/rhime/article/view/313
License
This work is licensed under a
Creative Commons Attribution-NonCommercial 4.0 International License
. Authors who publish with this journal agree to the following terms: Authors retain copyright and grant the journal right of first publication with the work simultaneously licensed under a Creative Commons Attribution License that allows others to share the work with an acknowledgement of the work's authorship and initial publication in this journal. Authors are able to enter into separate, additional contractual arrangements for the non-exclusive distribution of the journal's published version of the work (e.g., post it to an institutional repository or publish it in a book), with an acknowledgement of its initial publication in this journal. Authors are permitted and encouraged to post their work online (e.g., in institutional repositories or on their website) after publication in the Journal, as it can lead to productive exchanges, as well as greater citation of published work