Psychological effects of the Coronavirus disease-2019 pandemic
Keywords:
Coronavirus, COVID-19, Mental health, Pandemic, Psychology, Self-isolation, Social distancing, Quarantine
Abstract
Going by the current physical reach of the COVID-19 pandemic in the population there are bound to be long-term socio-economic and psychological implications. The swift rise of fear and anxiety among people due to uncertainty of the disease are coupled with essential yet socially disruptive measures like lockdowns and quarantines. These can lead to significant psychological and psychiatric disturbances such as post-traumatic stress disorder, depression, anxiety, panic disorders, and behavioural disorders. Predisposing factors include staying away from family, loneliness, misinformation on social media, financial insecurity and stigmatization. Healthcare workers, too, have a high risk of developing post-traumatic stress disorder and burnout; therefore, it is paramount to understand and research the psychological impact and key determinants to prevent, identify, and manage such problems. Suggested actions include support lines for anxious people, tele-counselling, virtual connecting & help groups, encouraging meditation, conducting research on psychological consequences, and developing and utilising suitable interventions.
Downloads
Download data is not yet available.
References
World Health Organization: Data on SARS, 2003. Geneva: WHO; 2003 [cited 2020 Mar 31]. Available from: http://www.who.int/csr/sars/country/en/country2003_08_15.pdf
World Health Organization: Coronavirus disease (COVID-19) Pandemic. Geneva: WHO; 2020 [cited 2020 Mar 31]. Available from: https://www.who.int/emergencies/diseases/novel-coronavirus-2019
Nigam C, Kumar A. Covid-19 pandemic: Depression, anxiety go viral as nation observes lockdown. India today [Internet]. 2020 Mar 26 [cited 2020 Mar 31]. Available from: https://www.indiatoday.in/mail-today/story/covid-19-pandemic-depression-anxiety-viral-nations-observes-lockdown-1659774-2020-03-26
Makwana N. Disaster and its impact on mental health: A narrative review. J Family Med Prim Care. 2019;8(10):3090-5. doi: 10.4103/jfmpc.jfmpc_893_19.
Wu KK, Chan SK, Ma TM. Posttraumatic stress after SARS. Emerg Infect Dis. 2005;11(8):1297-300. doi: 10.3201/eid1108.041083.
Sim K, Chua HC. The psychological impact of SARS: a matter of heart and mind. CMAJ. 2004;170(5):811-2. doi: 10.1503/cmaj.1032003.
Rico-Uribe LA, Caballero FF, Martín-María N, Cabello M, Ayuso-Mateos JL, Miret M. Association of loneliness with all-cause mortality: A meta-analysis. PLoS One. 2018;13(1):e0190033. doi: 10.1371/journal.pone.0190033.
Mohanty P. Coronavirus Lockdown I: Who and how many are vulnerable to COVID-19 pandemic. Business today [Internet]. 2020 Mar 27 [cited 2020 Mar 31]. Available from: https://www.businesstoday.in/current/economy-politics/coronavirus-covid-19-daily-wage-workers-vulnerable-landless-labourers-agricultural-workforce/story/399186.html
Lai J, Ma S, Wang Y, Cai Z, Hu J, Wei N, et al. Factors associated with mental health outcomes among health care workers exposed to Coronavirus disease 2019. JAMA Netw Open. 2020;3(3):e203976. doi:10.1001/jamanetworkopen.2020.3976
Garg K, Kumar C N, Chandra PS. Number of psychiatrists in India: Baby steps forward, but a long way to go. Indian J Psychiatry. 2019;61:104-5.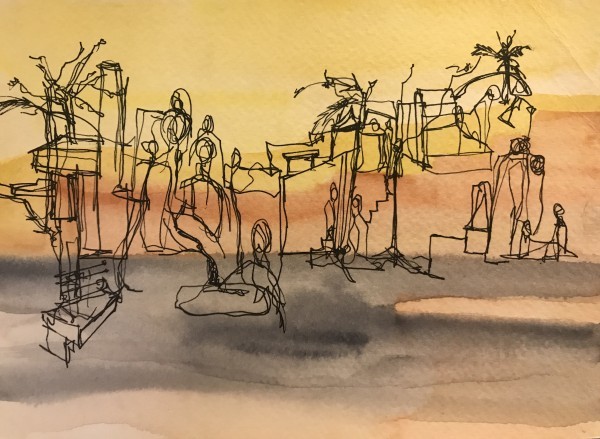 Downloads
How to Cite
Sood, S. (2020). Psychological effects of the Coronavirus disease-2019 pandemic. Research & Humanities in Medical Education, 7, 23-26. Retrieved from https://www.rhime.in/ojs/index.php/rhime/article/view/264
License
This work is licensed under a
Creative Commons Attribution-NonCommercial 4.0 International License
. Authors who publish with this journal agree to the following terms: Authors retain copyright and grant the journal right of first publication with the work simultaneously licensed under a Creative Commons Attribution License that allows others to share the work with an acknowledgement of the work's authorship and initial publication in this journal. Authors are able to enter into separate, additional contractual arrangements for the non-exclusive distribution of the journal's published version of the work (e.g., post it to an institutional repository or publish it in a book), with an acknowledgement of its initial publication in this journal. Authors are permitted and encouraged to post their work online (e.g., in institutional repositories or on their website) after publication in the Journal, as it can lead to productive exchanges, as well as greater citation of published work