A holistic approach to Henry Peach Robinson's 'Fading Away' for a medical humanities class
Keywords:
Empathy, Fading away, Illness narrative, Holistic approach, Henry Peach Robinson, Medical humanities
Abstract
Henry Peach Robinson's "Fading away" can be interpreted either through a reductionist approach or a holistic approach. He perfected this fictional photograph through five negatives to create an anecdote and change attitudes towards tuberculosis. While there are many interpretations of this piece of art from a reductionistic approach – literary, artistic, humanistic, or illness-narrative – there are hardly any from a holistic perspective integrating all these angles. When used during a medical humanities course, the photograph provoked students to think beyond the purely artistic and the purely medical aspects of disease. Some of the messages that medical students took home were: 'grief could be experienced by anyone'; 'love expands into diverse manifestations during times of sadness'; 'we must empathize with others and what they go through'. This paper reports on our attempt to adopt a holistic approach to analyze the photograph from Robinson's perspective and with respect to modern medicine.
Downloads
Download data is not yet available.
References
Leggat R. A history of photography from its beginnings till the 1920s. Henry Peach Robinson; 2011 Dec 13 [cited 2020 Feb 09]. Available from: http://www.mpritchard.com/photohistory/history/robinson.htm
Fineman M. Faking it: manipulated photography before Photoshop. New York: The Metropolitan Museum of Art; 2012. pp. 296.
Tetoff T, Andrade G, Dubey A, Bhat MS. Henry Peach Robinson's "Fading Away": a learning resource for narrative of illness. Research and Humanities in Medical Education. 2018. 5:44-49. Available from: https://www.rhime.in/ojs/index.php/rhime/article/view/185
Mogensen JU. Fading into innocence: death, sexuality and moral restoration in Henry Peach Robinson's Fading Away. Victorian Review. 2006;32(1):1-17.
Adminbot. Victoria of the United Kingdom. New York: New World Encyclopedia; 2008 Aug 29 [cited 2020 Feb 09]. Available from: www.newworldencyclopedia.org/p/index.php?title=Victoria_of_the_United_Kingdom&oldid=795300.
The Editors of Encyclopædia Britannica. Henry Peach Robinson. Chicago: Encyclopædia Britannica, inc; 2019 Jul 08 [cited 2020 Feb 08]. Available from: www.britannica.com/biography/Henry-Peach-Robinson
Musée D'Orsay Collections. The Pre-Raphaelite Lens, British Photography and Painting 1848-1875. Paris: Musée D'Orsay; 2011 [cited 2020 Feb 09]. Available from: www.museeorsay.fr/fr/collections/publications/publications/notice-publication/publication_id/the-pre-raphaelite-lens-british-photography-and-painting-1848-1875-4027.html.
Mullin E. How tuberculosis shaped Victorian fashion. Smithsonian Magazine. 2016 May 10 [cited 2020 Feb 09]. Available from: www.smithsonianmag.com/science-nature/how-tuberculosis-shaped-victorian-fashion 180959029/
Coudert AP. Praeger Series on the Early Modern World: Religion, Magic, and Science in Early Modern Europe and America. Santa Barbara, CA: Praeger Publishers Inc; 2011 Oct 17 [cited 2020 Feb 09] Available from: https://books.google.com/books?id=2JIThiyA6s8C&printsec=frontcover&source=gbs
Green-Lewis J. Framing the Victorians: Photography and the Culture of Realism. Ithaca, NY: Cornell University Press; 1996 Dec 12 [cited 2020 Feb 08]. Available from: https://books.google.com.sl/books?id=vv-eYJpzZZIC&printsec=frontcover&source=gbs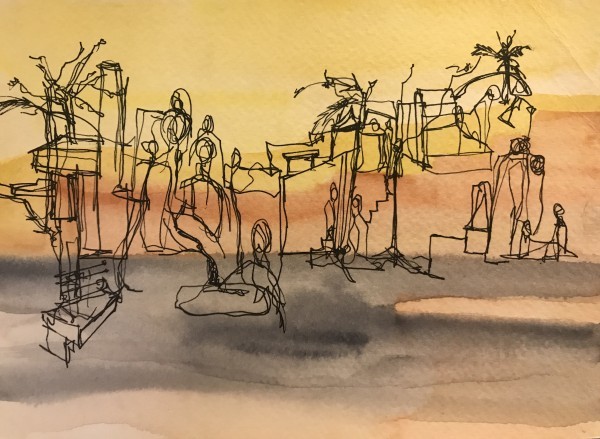 Downloads
How to Cite
Lota, M., Divaker, S., Dubey, A. K., & Bhat, M. S. (2020). A holistic approach to Henry Peach Robinson's 'Fading Away' for a medical humanities class. Research & Humanities in Medical Education, 7, 8-14. Retrieved from https://www.rhime.in/ojs/index.php/rhime/article/view/224
License
This work is licensed under a
Creative Commons Attribution-NonCommercial 4.0 International License
. Authors who publish with this journal agree to the following terms: Authors retain copyright and grant the journal right of first publication with the work simultaneously licensed under a Creative Commons Attribution License that allows others to share the work with an acknowledgement of the work's authorship and initial publication in this journal. Authors are able to enter into separate, additional contractual arrangements for the non-exclusive distribution of the journal's published version of the work (e.g., post it to an institutional repository or publish it in a book), with an acknowledgement of its initial publication in this journal. Authors are permitted and encouraged to post their work online (e.g., in institutional repositories or on their website) after publication in the Journal, as it can lead to productive exchanges, as well as greater citation of published work