Whole or incomplete: the myth of body perfection
Keywords:
Ableism, Body imperfection, Depression, Physical disability
Abstract
The media's and society's prejudice in favor of 'ablesim' propagates the myth of body perfection. As a result we pursue perfection – the concept of ableism invades our minds as well as our culture and we all succumb to it's lure. Disability is socially constructed; it is ableism that compels people to believe that perfection is normal. This belief is nothing less than social oppression. Even the rehabilitation therapies send out strong signals that persons with disabilities are 'deficient' and 'abnormal', and that to become a "valued" person they would have to overcome their disabilities. Since the physical component of self-concept is important in maintenance of health and in identity formation, such pressures can lead to a distortion of self-concept. The desire for human perfection can lead to medical conditions such as obsessive compulsive disorder, anorexia nervosa, or depression. It can also impact our understanding of what it means to be human and what signifies a perfect or happy life. This article expounds on why we must achieve, value, and polish psychological maturity through awareness, self-regulation, responsibility, interdependence, honesty and integrity.
Downloads
Download data is not yet available.
References
Heiss SN. Locating the bodies of women and disability in definitions of beauty: an analysis of Dove's campaign for real beauty. Disability Studies Quarterly [internet]. 2011;31(1) [cited 2017 Aug 7]. doi: http://dx.doi.org/10.18061/dsq.v31i1.1367.
Agmon M, Sa'ar A, Araten-Bergman T. The person in the disabled body: a perspective on culture and personhood from the margins. Int J Equity Health. 2016;15(1):147. doi: 10.1186/s12939-016-0437-2.
Smith L, Foley PF, Chaney MP. Addressing Classism, Ableism, and Heterosexism in Counselor Education. Journal of Counseling & Development. 2008;86:303-9.
McDonald KE, Keys CB, Balcazar FE. Disability, race/ethnicity and gender: themes of cultural oppression, acts of individual resistance. Am J Community Psychol. 2007;39(1-2):145-61.
Thomas GM, Rothman BK. Keeping the Backdoor to Eugenics Ajar?: Disability and the Future of Prenatal Screening. AMA J Ethics. 2016;18(4):406-15. doi: 10.1001/journalofethics.2016.18.4.stas1-1604.
Zerbe KJ. Anorexia nervosa and bulimia nervosa. When the pursuit of bodily 'perfection' becomes a killer. Postgrad Med. 1996;99(1):161-4, 167-9.
Wabi-Sabi. Wikipedia. 2017 July 22 [cited 2017 Aug 7]. Available from: https://en.wikipedia.org/wiki/Wabi-sabi
Howard J. Are we addicted to the idea of perfection? Huffinton Post. 2011 Nov 16 [cited 2017 Aug 7]. Available from: http://www.huffingtonpost.com/jennifer-howard-phd/beauty-and-wisdom_b_954404.html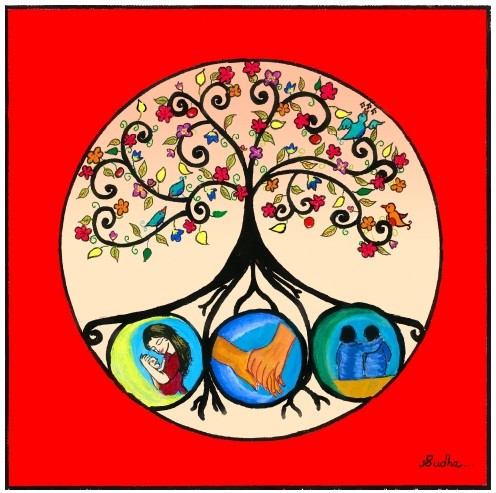 Downloads
How to Cite
Khetarpal, A. (2017). Whole or incomplete: the myth of body perfection. Research and Humanities in Medical Education, 4, 54–57. Retrieved from https://www.rhime.in/ojs/index.php/rhime/article/view/120
License
Articles published in the journal RHiME are covered by the Creative Commons License [Attribution-NonCommercial 4.0 International (CC BY-NC 4.0)]
Authors retain copyright and grant the journal right of first publication with the work simultaneously licensed under a Creative Commons Attribution License that allows others to share the work with an acknowledgement of the work's authorship and initial publication in this journal.
Authors are able to enter into separate, additional contractual arrangements for the non-exclusive distribution of the journal's published version of the work (e.g., post it to an institutional repository or publish it in a book), with an acknowledgment of its initial publication in this journal.
Authors are permitted and encouraged to post their work online (e.g., in institutional repositories or on their website) after publication in the Journal, as it can lead to productive exchanges, as well as greater citation of published work.